I'm no expert on film but I love them! Yesterday I attended the festival to see
Ever Last
(no relation to Chad Michael Murray's graphic novel) written and directed by Chris Dimoulas. But I will talk more about him and his producer Angeline Rose Troy later this week. Today I will review MY experience at the
Garden State Film Festival (GSFF)
.
The event was from March 22-25 in Asbury Park, NJ. It was a chilly day. ... Okay I know I'm not here to bore you with the details of the actual day but I'm trying to find the words. Anyway, this was the 10th Annual GSFF. Congratulations to them. I truly hope they have 10 more years.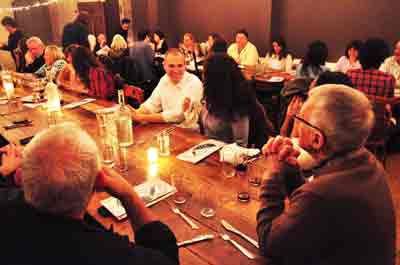 Apparently there were numerous locations in the area to screen the movies. Mine was in
Porta
, which had amazing pizza. Yum. But unfortunately for those of us who were watching the film, we could hear the children birthday party going on, Justin Bieber and Ke$ha playing in the dining area, kids beating what sounded like drums... it was a mess. But like I said, the food was good. I was also greeted by a woman who asked for my ticket, but when I told her I forgot it she almost crucified me. I'm sure she was a nice woman, which I experienced once I left but that was not a good beginning to my experience at all.
Note:
What is with people/events/businesses being stuck in the pre-2000's? This has been a recent annoyance of mine. Although I'm not saying everyone should have an event list on an iPad; I am asking to at least print out your guest list pre-event. It's inevitable that anything that can go wrong during an event, will happen. Anyway, in all, I did enjoy my time and cupcake at the GSFF screening. I predict that within their next decade of festivals, they will pump up their advertisements/promotions/marketing and maybe get the community/state more involved. That would be awesome to see. I am definitely going to keep my eye out and so should all of you.
P.S. And I do acknowledge that YES, I should have brought my ticket. Forces I could not prevent.